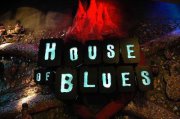 Blue's Hosting Karaoke at THE HOUSE OF BLUES ( Sunset )
ADMISSION IS ABSOLUTELY FREE : $0.00 dollars to get in ...
~ ( Its only from 7pm - 10pm ) ~
January 18th 2013
This is a 21+ event ONLY ! ( They check everyone's I.D.'s )

Hey guys - Alright here's the deal .... I am hosting Karaoke January 18th 2013 at the " House of Blues " on Sunset !! But this isn't any old KARAOKE with just your Karaoke host - THIS IS LIVE BAND KARAOKE - 1. Karaoke is INTERACTIVE. You will have more fun when they can participate in the entertainment . . . and even if they're too shy to sing themselves, everyone will have fun watching YOU sing!

2. "LIVE-BAND" Karaoke is way more fun than regular karaoke. Nothing makes you feel more like a rock-star than having an energetic live band backing you up. And we make it EASIER to sing, because we know all the songs and can help you if you get lost If you would like more information on the band here is a link that you might want to use in order to find out more information on the band themselves -

http://www.gigmasters.com/Karaoke-Band/Casual-Encounters-Karaoke/

So this is how this works - FROM now until the date !! I WILL BE posting songs from their SONG book - All you have to do is youtube the song and PRACTICE so you can master your song and SING with the live band !! ( after a few drinks of course ) - talking yourself into it ~ ! ( YES THERE IS A SCREEN THAT HAS WORDS ) so you don't have to memorize the words - but you need to at least know how the song goes ....** SO GET TO PRACTICING ** -

If you have any questions please feel free to contact me personally or post comments here on this EVENT page and I will check it daily ... I hope that you would at least consider the idea of coming out to hang out with great people, fun entertainment and of course drinks! Because this is a public place - would you please spread the word and help me turn this into a really outstanding turn out !! Even if you don't sing come watch me and my friends sing !!
House of Blues Sunset Strip

Friday Jan 18, 2013
7pm-10pm
More events in Los Angeles