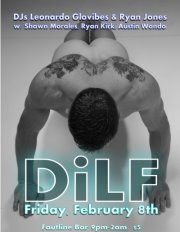 This Friday...
DiLF wants to see you naked. YOU provide the big screen visuals, and we'll LET YOU IN FREE.

We know you're showing up at our party to be a cruisy fucker, so we're going to help you out. Between now and Friday, get on your webcam and dance for us for 60 seconds. Any state of dress, any degree of hot. Just record that shit. Show your face in the video or be anonymous. Dad, lad, whatever. Just take off that shirt and show us what you've got.

Then, send the video to our host Ryan Jones, and you'll be included on our guest list for FREE ENTRY. You'll also see yourself projected in our visual reel on the back wall of the patio throughout the night. Brag to the dude that you're cruising when your video is on and show him what you're packing, larger than life.

Send your videos to Ryan Jones via Facebook PM or email it to ryan.joneslb@gmail.com

THIS FRIDAY
DiLF returns and we're showing everyone your junk.

2/8/2013
Faultline Bar

w/ DJs
Leonardo GloVibes
and DJ Ryan Jones

Resident DiLFs:
Shawn Morales
Ryan Kirk

Photos:
Austin Wondo

Door
Kevin "Boo Boo" Valeros

Drink specials that won't break daddy's wallet
Custom visuals
Music you won't get anywhere else.

Faultline Bar
Feb 8th
9pm-2am
$5

Show us what you got, and we've got your cover covered.






More events at Faultline Bar